John Lennon
New York City Ringer
Statue of Liberty Photo Gallery

The statue of Liberty is a NY city Landmark that is recognized the world over. It was originally made in France and was a gift of the French people to the people of the United States. Bartholdi was the artist along with a huge studio of people. The job of making it was enormous. The job of transporting this huge statue was quite the undertaking. The work was done through the 1870s and 1880s.
The head portion alone of the Statue of Liberty when it was displayed at the Paris Exposition of 1878 was large enough to hold 40 people. The workshop of Bartholdi had over 300,000 visitors over the course of work on the Statue.
Links: Black I Love New York Shirt | i love ny shirts


John Lennon was a very famous resident of New York City during the 1970's. This period was a difficult one for New York City. This photo shows John Lennon visiting the Statue of Liberty. John Lennon was killed in New York City on December 8, 1980.
This shot from above shows the Statue of Liberty in the foreground. Behind that you see the waters of New York harbor. In the background you can see lower Manhattan and New York's financial district. The World Trade Center Twin Towers are a prominant landmark visible here before 9/11.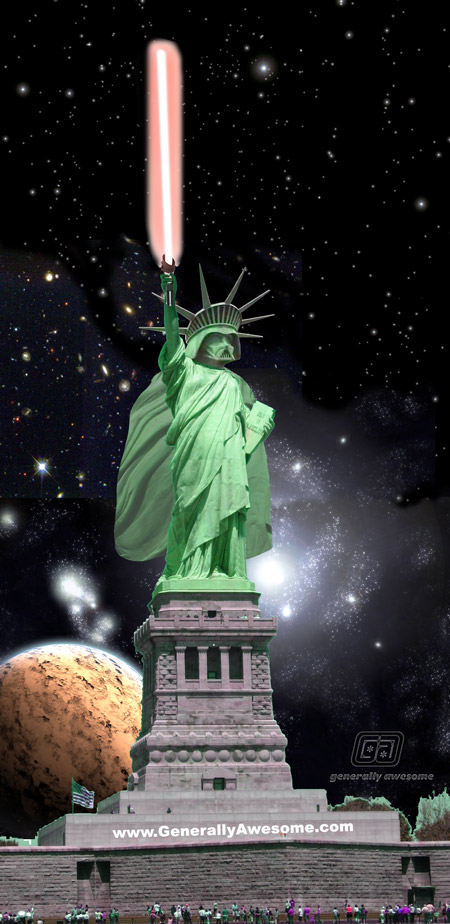 This picture is on the lighter side of this. Fantastic in nature, the head of Darth Vader is put onto Lady Liberty's body to make a whole new twist on the Statue of Liberty. If you like this image you should also check out these funny photos. Thanks for checking out this little Statue of Liberty photo album!